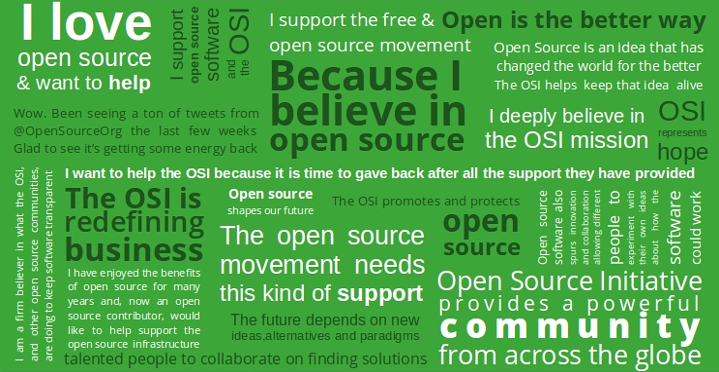 The Open Source Initiative (OSI) is actively involved in Open Source community-building, education, and public advocacy to promote awareness and the importance of non-proprietary software. They have approached us last year, asking if we would consider throwing our weight behind that cause by becoming an affiliate.

The OpenStreetMap Foundation board had a vote and decided in favour. The application has now been accepted and OSMF joins the Initiative alongside other affiliates like Creative Commons, DemocracyLab, The Document Foundation and others.

As an OSI affiliate, the board has a delegate who:
– is the main liaison to OSI.
– can participate in OSI Working Groups.
– may nominate and vote for the five Affiliate Member seats on the OSI Board of Directors.
The current delegate is Kate Chapman.
The OSI's mission is: "The Open Source Initiative (OSI) is a non-profit corporation with global scope formed to educate about and advocate for the benefits of open source and to build bridges among different constituencies in the open source community. Open source enables a development method for software that harnesses the power of distributed peer review and transparency of process. The promise of open source is higher quality, better reliability, greater flexibility, lower cost, and an end to predatory vendor lock-in. One of our most important activities is as a standards body, maintaining the Open Source Definition for the good of the community. The Open Source Initiative Approved License trademark and program creates a nexus of trust around which developers, users, corporations and governments can organize open source cooperation."

What is OpenStreetMap
OpenStreetMap was founded in 2004 and is a international project to create a free map of the world. To do so, we, thousands of volunteers, collect data about roads, railways, rivers, forests, buildings and a lot more worldwide. Our map data can be downloaded for free by everyone and used for any purpose – including commercial usage. It is possible to produce your own maps which highlight certain features, to calculate routes etc. OpenStreetMap is increasingly used when one needs maps which can be very quickly, or easily, updated, such as ambulance services, fire brigades and humanitarian crises response.
What is the OpenStreetMap Foundation
The OpenStreetMap Foundation is a not-for-profit organisation, formed in the UK to support the OpenStreetMap Project. It is dedicated to encouraging the growth, development and distribution of free geospatial data for anyone to use and share. The OpenStreetMap Foundation owns and maintains the infrastructure of the OpenStreetMap project.