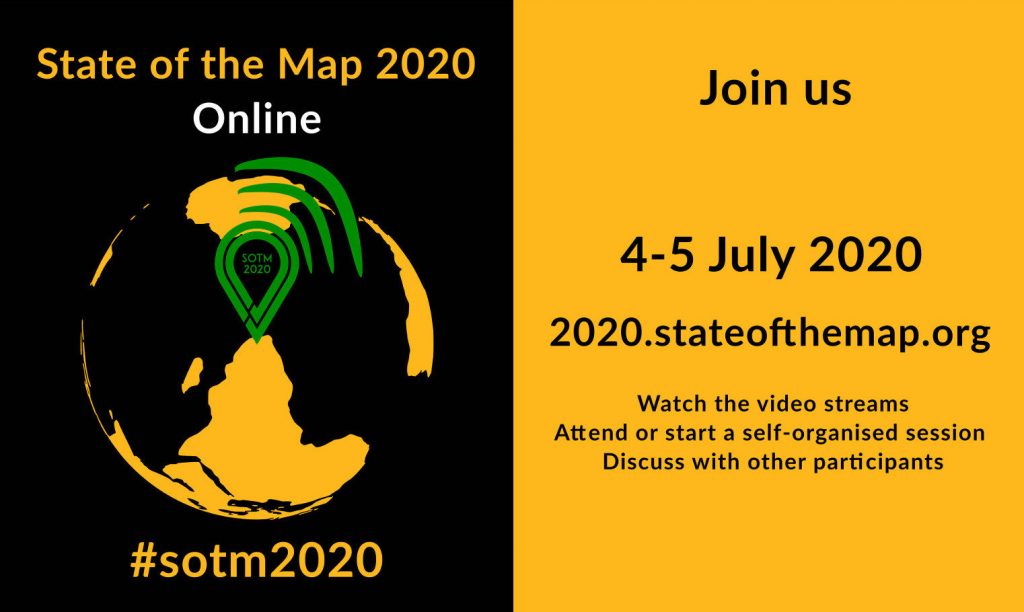 4-5 July 2020
State of the Map is the annual, international conference of OpenStreetMap.
No registration is required for SotM 2020.
Watch the talks as they are streamed. Missed something? Watch already streamed talks here.
Submit questions to the speakers, to be answered at the end of their talk. Questions are collected as the talk is streamed. Look for the "session pad" link, on every talk page and type your question there.
Discuss with other participants, either at a self organising session, on the IRC channel #osm-sotm-ct on the OFTC IRC server (join via this link or with a dedicated IRC client) or on other communication channels (e.g. Telegram).
Follow @SotM@en.osm.town on Mastodon or @sotm on Twitter. Use the hashtag #sotm2020.
Check out the posters.
Participate in the quiz session!
Provide general feedback about the conference.
State of the Map 2020 is organised by the volunteers of the SotM Working Group and is streamed by the Chaos Computer Club Video Operation Center.
Enjoy State of the Map 2020 🙂
The State of the Map Organising Committee is one of the volunteer Working Groups of the OpenStreetMap Foundation. The OpenStreetMap Foundation is a not-for-profit organisation, formed in the UK to support the OpenStreetMap Project. It is dedicated to encouraging the growth, development and distribution of free geospatial data for anyone to use and share. The OpenStreetMap Foundation owns and maintains the infrastructure of the OpenStreetMap project and you can support it by becoming a member.
OpenStreetMap was founded in 2004 and is a international project to create a free map of the world. To do so, we, thousands of volunteers, collect data about roads, railways, rivers, forests, buildings and a lot more worldwide. Our map data can be downloaded for free by everyone and used for any purpose – including commercial usage. It is possible to produce your own maps which highlight certain features, to calculate routes etc. OpenStreetMap is increasingly used when one needs maps which can be very quickly, or easily, updated.
This post is also available in: Spanish