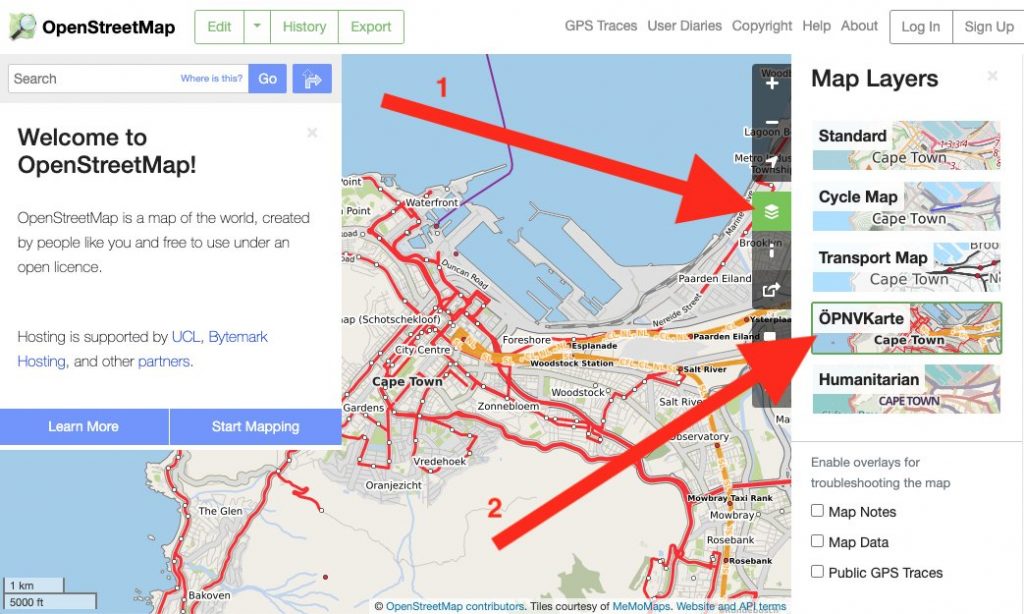 OpenStreetMap.org now has a new featured map layer displaying our rich data in a different way: ÖPNVKarte.

ÖPNVKarte is a public transport map displaying public transport routes of trains, trams, light rails, buses, ferries, subways and also points of interest for public transport travelers. Melchior Moos, the creator of the layer, hopes that the inclusion on the global site "will help and reward mappers from all over the world by making their public transport mapping efforts more visible".

The ÖPNVKarte map key can be found on the ÖPNVKarte website https://öpnvkarte.de (also OpenBusMap.org). For those wondering about the name, it's derived from German for "Public Transport Map".

ÖPNVKarte is already featured on sites such as: openstreetmap.de, openstreetmap.no, Mappa-Mercia, Facilmap , OSM inspector and on some mobile applications.

The ÖPNVKarte layer is an addition to these featured layers:
The OSM Operations Working Group is interested in new featured layers that highlight different aspects of OpenStreetMap and you can read about the criteria here.

OSM Operations Working Group
Do you want to translate this and other blogposts in another language..? Please send an email to communication@osmfoundation.org with subject: Helping with translations in [language]
The Operations Working group is one of the volunteer Working Groups of the OpenStreetMap Foundation. The OpenStreetMap Foundation is a not-for-profit organisation, formed to support the OpenStreetMap Project. It is dedicated to encouraging the growth, development and distribution of free geospatial data for anyone to use and share. The OpenStreetMap Foundation owns and maintains the infrastructure of the OpenStreetMap project, is financially supported by membership fees and donations, and organises the annual, international State of the Map conference. It has no full-time employees and it is supporting the OpenStreetMap project through the work of our volunteer Working Groups. Please consider becoming a member of the Foundation.
OpenStreetMap was founded in 2004 and is a international project to create a free map of the world. To do so, we, thousands of volunteers, collect data about roads, railways, rivers, forests, buildings and a lot more worldwide. Our map data can be downloaded for free by everyone and used for any purpose – including commercial usage. It is possible to produce your own maps which highlight certain features, to calculate routes etc. OpenStreetMap is increasingly used when one needs maps which can be very quickly, or easily, updated.
This post is also available in: Dutch French Galician Italian Portuguese (Brazil) Spanish Ukrainian Polish