The OpenStreetMap Foundation is launching a new communication platform for the OpenStreetMap community at community.openstreetmap.org. Interested? Give it a try and find out how you can get involved with the next steps!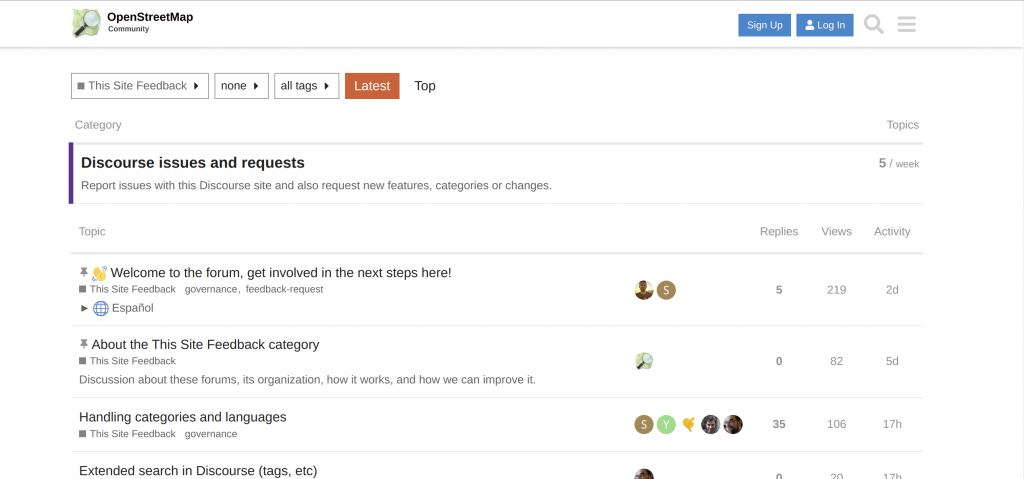 Behind the scenes, the new space is powered by Discourse, a modern open source solution for online conversations. It is fully integrated with OSM accounts to let you log in with your existing user name. Discourse is easy to use and offers all the conveniences you would expect from social online spaces in the 2020s. At the same time, it gives power users access to optional advanced features: Write and receive posts through email, subscribe to RSS feeds, and more!
Of course, this is not the first platform dedicated to mappers' conversations about their favourite passion. But while the new community space has been set up in parallel to the existing platforms provided by the Foundation (notably the forum, help site and mailing lists), we hope that the sub-communities on those platforms will eventually migrate to the new site. Likewise, we encourage communities currently using proprietary tools to consider adopting the new site for their communication needs. In particular, we are prepared to work with regional communities and local chapters – let us know on the Discourse forum what you need for your community to make this space your new home for discussing your local activities!
Choosing a solution that is hosted on our own infrastructure and based open-source software ties into the OpenStreetMap Foundation's commitment to open communication channels. To ensure productive conversations and a welcoming environment, please respect our recently updated etiquette guidelines when you participate in the new forum. We hope that all members of the OSM community feel right at home at community.osm.org!