OpenCage is a silver level corporate member of the OpenStreetMap Foundation, entitling them to this joint press release. If your organisation would like to support the OSMF more, please consider joining the OSMF as a corporate member, or read about other ways to give back.
Geocoding is the process of converting between addresses or placenames and geographic coordinates (longitude and latitude). Geocoding is a core geospatial functionality; an underlying building block that is critical to developing location based services.
OpenStreetMap Foundation corporate member OpenCage operates a highly-available, enterprise level geocoding API based on OpenStreetMap. We're pleased to announce that OpenCage recently increased their commitment to the OpenStreetMap Foundation by upgrading to silver level corporate membership.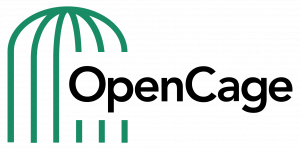 "For years our service has built on OpenStreetMap. We're delighted to increase our ongoing support of the worldwide OSM community by increasing our level of commitment to the OpenStreetMap Foundation." said Ed Freyfogle, OpenCage co-founder.
"It's a nice milestone that the business has grown to the point that we could upgrade from Bronze to Silver. But beyond financial support the main work we do is opening the eyes of our customers – most of whom arrive knowing simply that they need geocoding, and without a detailed understanding of open data – to open data's many benefits. Our customers around the world are proof that OpenStreetMap is commercially usable not in some distant theoretical future, but today" continued Freyfogle.
An example of that type of educational work is OpenCage's recently published Reverse Geocoding Guide, which details the technical challenges of ongoing operation of a reverse geocoding service, while also documenting the advantages of using open data as the underlying data foundation for such a service.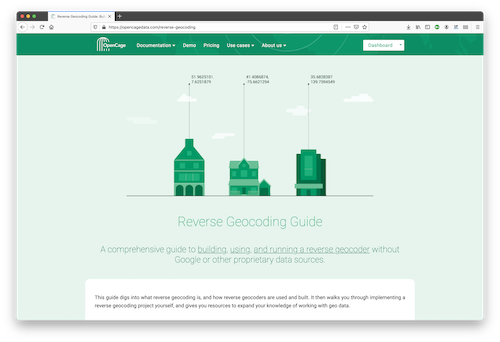 OpenCage offers open source SDKs for accessing their geocoding API for over 30 different programming languages.
In addition to being corporate members of the OSMF, OpenCage are proud members of the UK (the business was started in the UK) and German (the business is currently based in Germany) local chapters, co-sponsor and contribute to the open source development of Nominatim (the primary OpenStreetMap geocoding software), and regularly sponsor OpenStreetMap events.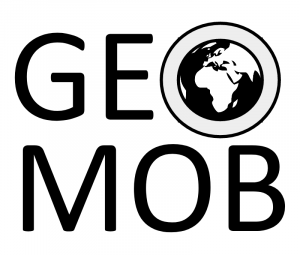 OpenCage also encourages geoinnovation by running Geomob, a regular series of in-person and online events with the goal of promoting geoinnovation in any and all forms – whether for "fun or profit", as the event tagline says. Now in its thirteenth year, Geomob has become an established feature of the European geo event landscape, and regularly features projects using OpenStreetMap.
Early in 2020 the Geomob podcast was launched. The weekly conversations provide a chance to reflect on geo industry trends, discuss interesting new geo technology, and interview Geomob speakers. Podcast guests have included many members of the OpenStreetMap community, including Allan Mustard (chairperson of the OSMF Board), Tyler Radford (executive director of the Humanitarian OpenStreetMap team), Sarah Hoffmann (maintainer of the geocoding tool Nominatim, which powers search on osm.org), several founders of businesses building on top of OpenStreetMap, and many more.
---
What is OpenStreetMap?
OpenStreetMap was founded in 2004 and is a international project to create a free map of the world. To do so, we, thousands of volunteers, collect data about roads, railways, rivers, forests, buildings and a lot more worldwide. Our map data can be downloaded for free by everyone and used for any purpose – including commercial usage. It is possible to produce your own maps which highlight certain features, to calculate routes etc. OpenStreetMap is increasingly used when one needs maps which can be very quickly, or easily, updated.
What is the OpenStreetMapFoundation?
The OpenStreetMap Foundation is a not-for-profit organisation, formed to support the OpenStreetMap Project. It is dedicated to encouraging the growth, development and distribution of free geospatial data for anyone to use and share. The OpenStreetMap Foundation owns and maintains the infrastructure of the OpenStreetMap project, is financially supported by membership fees and donations, and organises the annual, international State of the Map conference. The OSMF supports the OpenStreetMap project through the work of our volunteer Working Groups. Please consider becoming a member of the Foundation.
This post is also available in: Galician Italian Spanish Polish