The following post was put together by several members of Czech OSM community, and the main contributor was Mikoláš Štrajt. OpenStreetMap Česká republika z.s. is one of the OSM Foundation Local Chapters.
OpenStreetMap Česká republika z.s. association was founded in 2018 with a primary aim to have a stable entity for ownership of already existing website of the local community on domains openstreetmap.cz and osmap.cz. Since 2020 the association acts as a local chapter of OpenStreetMap Foundation in the Czech Republic.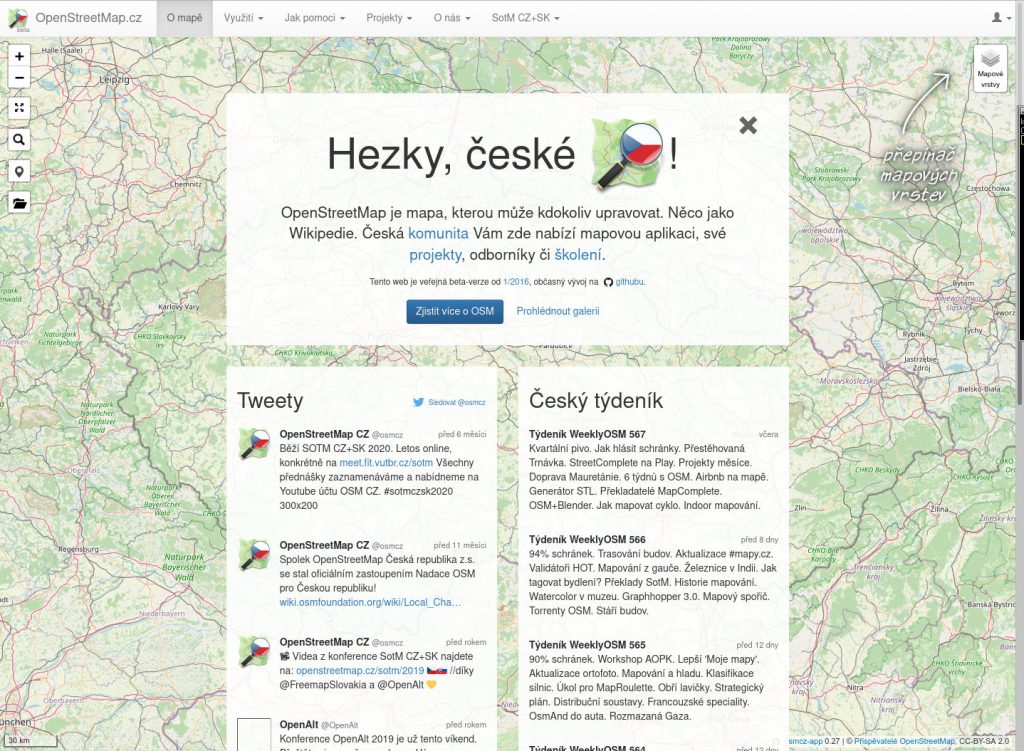 In the long term, we, as a Czech community, engage in the following mapping projects:
similarly to Slovakia, we are mapping a widespread network of tourist routes,
(not only) to its supervision we run a database of photos Fody, with a primary focus on tourist objects like guideposts, info boards, and maps,
we import some data from Český úřad zeměměřický a katastrální (Czech national mapping agency):

automatically, address points (operated by poloha.net project),
semi-automatically, buildings (from the RÚIAN database) and fields and meadows (from the LPIS database) using the JOSM plugin called Tracer,

we are updating post boxes according to open data by Česká pošta (Czech Post) and we report any discrepancy found,
as needed, we sometimes do collective edits. Recently, we have been for example improving the tags about recycling containers or controlling if we do not have telephone booths, which were cancelled the other day, hanging in the map.
Besides that, we
translate the WeeklyOSM into Czech,
organise the State of the Map CZ+SK conference (as part of wider OpenAlt conference or standalone action), and we are publishing video recordings of the speeches,
quarterly, call for a personal meeting of mappers – so-called "quarterly beer",
organise mapathons,
clean up after vandals operating in the area of the Czech Republic, communicate with the newbies, state offices, and commercial subjects.
Members of our community operate their own projects, e.g.:
– MTB map – a map for mountain bike riders,
– tourist maps for Garmin, other Garmin maps,
– maps of the Czech Republic for applications based on the mapsforge library,
– POI importer used to easily import various datasets into OSM,
– Osmose backend for CZ,PL,DE,FI,DK,AT,
– Taginfo for the Czech Republic,
– OsmHiCheck – QA applications for hiking routes,
– Archive of extracts of OSM data for the Czech Republic with very old versions,
– Monthly generated map tiles for the Czech Republic starting 04.2006.
Talk-cz mailing list serves as the primary communication channel, which is supported by a jabber chat connected to a Matrix channel and our own section under the openstreetmap.org forum.
---
---
Do you want to translate this and other blog posts in another language..? Please send an email to communication@osmfoundation.org with subject: Helping with translations in [language]
The OpenStreetMap Foundation is a not-for-profit organisation, formed to support the OpenStreetMap Project. It is dedicated to encouraging the growth, development and distribution of free geospatial data for anyone to use and share. The OpenStreetMap Foundation owns and maintains the infrastructure of the OpenStreetMap project, is financially supported by membership fees and donations, and organises the annual, international State of the Map conference. It has no full-time employees and it is supporting the OpenStreetMap project through the work of our volunteer Working Groups.
Get notified about new blog posts: Subscribe to the RSS feed