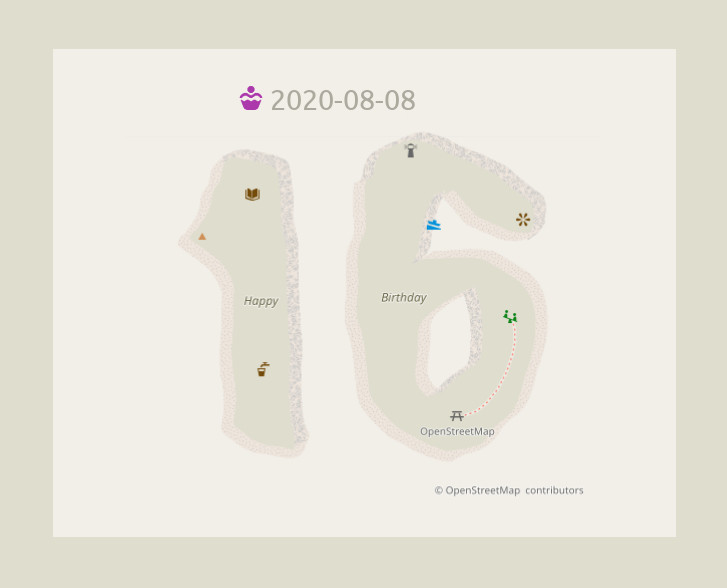 On Saturday, 8th of August 2020,
we will celebrate 16 years of OpenStreetMap!
Planning an online party or mapathon?
You can use the BigBlueButton video server of the OpenStreetMap Foundation! To get a free account and your own video room, please signup.
You can use your video room even after the birthday, for any OSM-related event.
Community members in low-bandwidth environments may benefit from using BigBlueButton's low-bandwidth settings.
Please add your event to the OSM wiki! If wiki editing isn't your thing, email communication@osmfoundation.org with your event details and we'll add it 🙂
Other ideas
Post why you love OpenStreetMap. We will publish a collection of messages later 🙂
Post a photo of yourself holding a written message 🙂
Use the hashtag #OpenStreetMap16 on social media
Make/order a birthday cake. See previous examples of OSM cakes for inspiration. Don't forget the attribution!
If your photos are accompanied with the text "CC-BY-SA 2.0" (or another open license), we can add them to the OSM wiki (or feel free to add them yourself! ~ register here).
Do you have more ideas? Share them in the comments 🙂
Join us!
Observance of the anniversary of the creation of OpenStreetMap is held on or about the 9th of August, which is the anniversary of the registration of the OpenStreetMap.org domain name. The concept of OpenStreetMap predates the domain name registration, but that seems a suitable anniversary date 🙂

Get notified about new blogposts: Subscribe to the RSS feed!
Do you want to translate this and other blogposts in another language..? Please send an email to communication@osmfoundation.org with subject: Helping with translations in [language]
The OpenStreetMap Foundation is a not-for-profit organisation, formed to support the OpenStreetMap Project. It is dedicated to encouraging the growth, development and distribution of free geospatial data for anyone to use and share. The OpenStreetMap Foundation owns and maintains the infrastructure of the OpenStreetMap project, is financially supported by membership fees and donations, and organises the annual, international State of the Map conference. It has no full-time employees and it is supporting the OpenStreetMap project through the work of our volunteer Working Groups. Please consider becoming a member of the Foundation.
OpenStreetMap was founded in 2004 and is a international project to create a free map of the world. To do so, we, thousands of volunteers, collect data about roads, railways, rivers, forests, buildings and a lot more worldwide. Our map data can be downloaded for free by everyone and used for any purpose – including commercial usage. It is possible to produce your own maps which highlight certain features, to calculate routes etc. OpenStreetMap is increasingly used when one needs maps which can be very quickly, or easily, updated.