Some tips for our new mappers coming from Pokémon GO:
So, you want to find rare spawns and came to edit OpenStreetMap? Welcome to our community of people passionate about collaboratively building the best map ever!
Please,
do improve the map!
do map things that exist on the ground. The map is used by pedestrians, people with disabilities, cyclists, hikers, canoeists, drivers and others. Do not add things -such as footways- that do not exist
do add things you see (i.e. benches, cafes, fire hydrants, bicycle parking spots) or things you know (if your favorite cafe offers free wifi, the type of cuisine of the nearby diner, accessibility, opening hours, official websites, wikipedia links)
want to add footways? Check what is considered as a footway: highway=footway tag docs. Want to add other features? Have a look at map features and search the wiki
do connect your footways with the road network
tagging secondary institutions? Use amenity=school. Tagging universities? Use amenity=university
do you still have questions? Ask away at help.openstreetmap.org
do connect with the community! Find your country's forum, mailing list/twitter account or other contact channel
do not add copyrighted data from other maps/sources
do find other mappers that improve your neighborhood/city e.g. with the oooc map (you need to have contributed a bit before your nickname is shown)
do check your own stats after you have contributed a bit! e.g. here
do check existing events
do mention "pokemon" in your changeset comments and a few words about what you added/changed. That will help your neighbor mappers to check the changes you make and maybe provide tips
do contribute your GPS traces, especially if you live in a rural area
do check the good practice guidelines for more tips
You and over three million of other contributors make OpenStreetMap possible. Welcome to our community – be excellent to each other and enjoy mapping our pale blue dot!
Pokémon Go?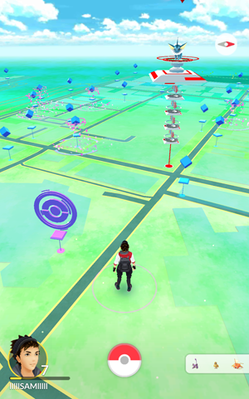 We've recently seen a flurry of new map editing activity from "Pokémon GO" players. Although this hugely popular mobile game displays maps from google maps (in fun colours), it seems it may be using OpenStreetMap data (according to some players) to influence "spawn points" within the game.
This is interesting for several reasons. We always like to see creative and unexpected uses of our free and open map data, and this certainly fits into that category! (Note: our open license does require crediting OpenStreetMap)
There is some new interest in editing the map from Pokémon GO players, presumably because the game is found to be bringing in updates when changes are made to OpenStreetMap. It always takes new folks some time to get to know OpenStreetMap, and we hope Pokémon GO players will stick around to contribute some more. We've prepared the above guidelines to help understand some aspects of OpenStreetMap related to the game.
OpenStreetMap is a world-wide collaborative project aiming at providing free map data, under an open license, to anyone who wants it. Volunteers all over the planet contribute their local knowledge and their time to build the best map ever.
You can contribute by improving the map, editing or translating the wiki, becoming a member of the volunteer Working Groups, increasing awareness about the project, uploading GPS traces, donating (donate.openstreetmap.org) or joining the OSM Foundation. You don't have to be a member of the Foundation in order to edit OpenStreetMap.
This post is also available in: German Japanese Portuguese (Portugal) Croatian Ukrainian