Would you like to provide feedback on decisions that the OSM Foundation board made in 2020 and on current topics? The board has prepared a survey and is asking for your input in order to set priorities.
You can see a copy of the questions in English here.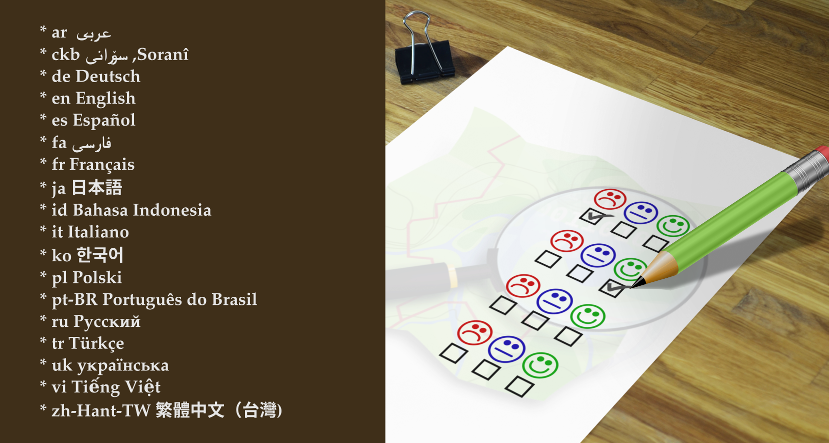 Languages
Thanks to volunteer translators, the survey is available in eighteen languages so far:
Helping with translations
If you would like to provide a translation to a language not on the list, or to suggest a correction in one of the translations, please email allan@mustard.net
If you would like to help with translations of non-English answers to English, future surveys or blogposts, please send an email to communication@osmfoundation.org with subject: Helping with translations in [language].
Practical
You need to provide an email address (to receive a token) and solve an equation in order to access the survey.
There are 18 questions, most are multiple-choice and mandatory.
There is an optional section with demographic questions.
There are several sections. You cannot go back to the previous section but you can resume later.
Please note that pages with background information linked from the survey are in English.

If the pages are on the OSM wiki, you are welcome to translate them.
If they are on the OSMF website and you would like to provide translations, please email the Communication Working Group at communication@osmfoundation.org with subject: Translating OSMF pages in [language].
Feedback
There is discussion about the survey on the "talk" mailing list, where you are welcome to provide feedback. You can register to the talk mailing list here. All past messages of the list are available here.
Privacy
Read the LimeSurvey privacy policy.
The answers can be accessed by current board members and the administrative assistant and will be processed by the board.
The email addresses and names (if provided) of participants won't be published after the survey ends.
Results
The general results will be published after the survey ends. Past surveys are listed here.
Deadline for participation: 14 February 2021.
Even if you don't participate, it would be appreciated if you spread the word about the survey.

Thank you in advance 🙂
The OpenStreetMap Foundation is a not-for-profit organisation, formed to support the OpenStreetMap Project. It is dedicated to encouraging the growth, development and distribution of free geospatial data for anyone to use and share. The OpenStreetMap Foundation owns and maintains the infrastructure of the OpenStreetMap project, is financially supported by membership fees and donations, and organises the annual, international State of the Map conference. It has no full-time employees and it is supporting the OpenStreetMap project through the work of our volunteer Working Groups. Please consider becoming a member of the Foundation.
This post is also available in: Galician Italian Japanese Portuguese (Brazil) Polish