Note: The OpenStreetMap Foundation and GraphHopper publish this joint press release due to the Gold Corporate Membership of GraphHopper GmbH. If you want to be an OSMF Corporate Member too, you can join at https://join.osmfoundation.org/corporate-membership/
On 25th May the release of version 1.0 for the open source GraphHopper routing engine was announced. The first version 0.1 of the routing engine was released in 2013 and since then it has grown into a mature solution that is integrated on openstreetmap.org since late 2014 and is now used by thousands of companies around the world.
The new release contains a fast alternative routes feature, as well as a new customizable routing that allows people to modify the routing behaviour even without programming knowledge.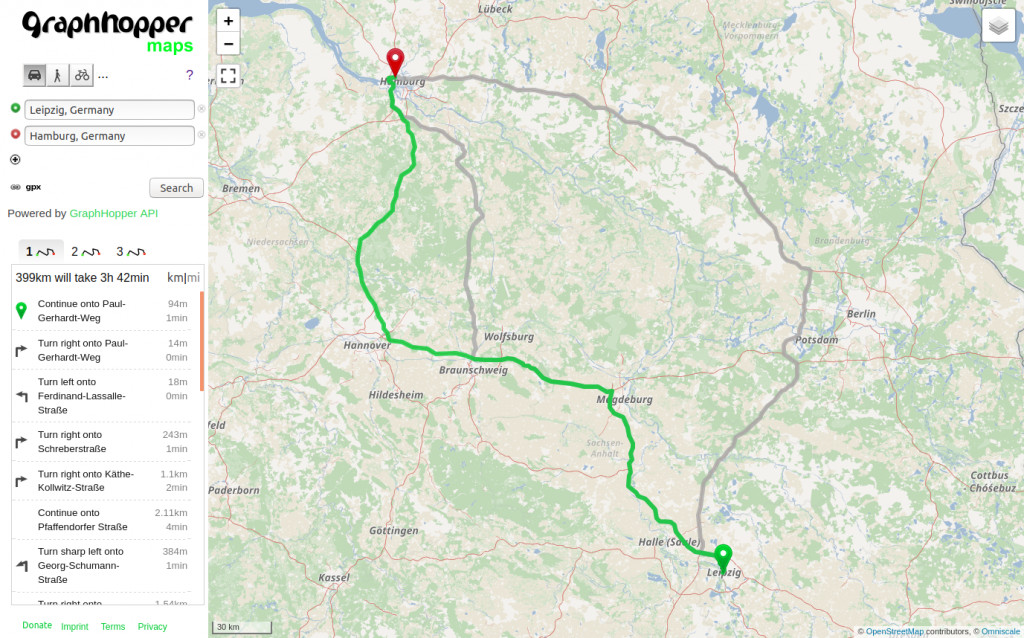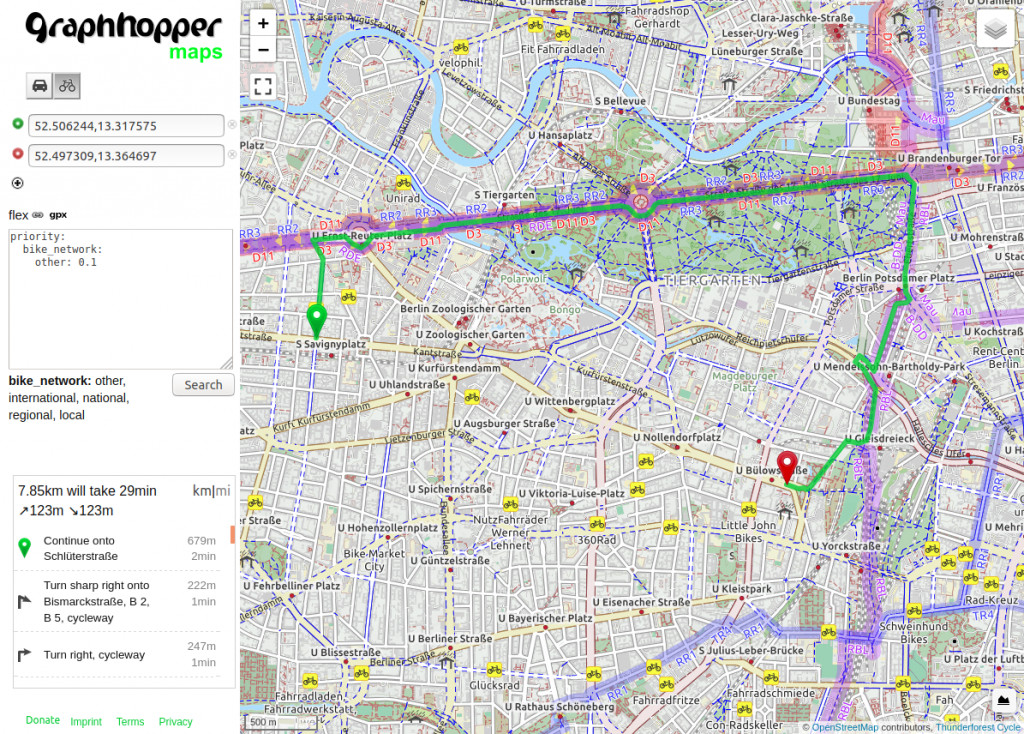 For a demo and more details about the new features you can read the full announcement at graphhopper.com
One key player in the GraphHopper community is the GraphHopper GmbH. The mission of the GraphHopper GmbH is to build the routing software stack of the future, with as many open source software as possible and also utilizing open data, like OpenStreetMap. The GraphHopper GmbH supports the OpenStreetMap project with sponsoring the routing service for openstreetmap.org, with using and improving the data as well as spreading the word. Since 2018 the GraphHopper GmbH is also a Gold Corporate Member of the OSMF.
What is GraphHopper
The GraphHopper Routing Engine is an open source software project started in 2012. The GraphHopper GmbH is a company founded in 2016 in Germany to support the development for its open source projects like the GraphHopper Routing Engine and jsprit.
What is OpenStreetMap
OpenStreetMap was founded in 2004 and is a international project to create a free map of the world. To do so, we, thousands of volunteers, collect data about roads, railways, rivers, forests, buildings and a lot more worldwide. Our map data can be downloaded for free by everyone and used for any purpose – including commercial usage. It is possible to produce your own maps which highlight certain features, to calculate routes etc. OpenStreetMap is increasingly used when one needs maps which can be very quickly, or easily, updated.
What is the OpenStreetMap Foundation
The OpenStreetMap Foundation is a not-for-profit organisation, formed to support the OpenStreetMap Project. It is dedicated to encouraging the growth, development and distribution of free geospatial data for anyone to use and share. The OpenStreetMap Foundation owns and maintains the infrastructure of the OpenStreetMap project, is financially supported by membership fees and donations, and organises the annual, international State of the Map conference. It has no full-time employees and it is supporting the OpenStreetMap project through the work of our volunteer Working Groups. Please consider becoming a member of the Foundation.