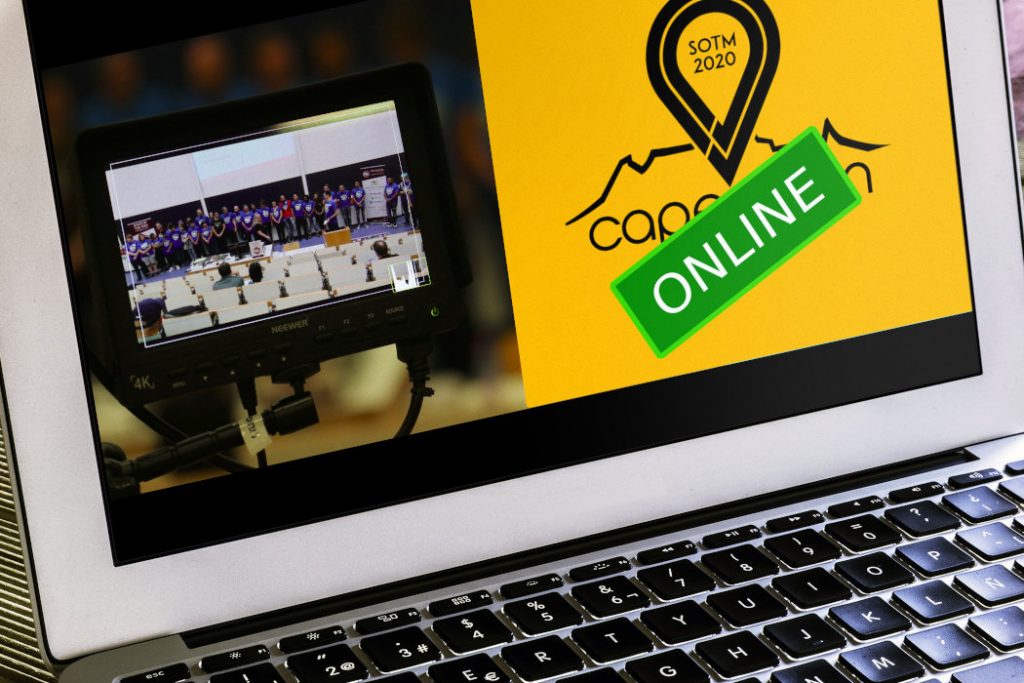 State of the Map 2020 is just a few weeks away and here are many ways you can still get involved, aside joining scheduled online sessions.
Lightning Talks
Do you want to hold a Lightning Talk during SotM 2020? Submit a pre-recorded 5 minutes video of your Lightning Talk on an OpenStreetMap related topic. Read the how to guide for pre-recorded SotM talks, upload your video here and add your session to this SotM 2020 Wikipage.

The deadline for lightning talk submissions is 28 June 2020.
Self Organized Sessions
Besides the main SotM programme we are offering space for self-organized sessions. If you have an idea for a panel or even a workshop, a self-organized session is the right place for that. The only requirement is that your topic has to be related to OpenStreetMap. We are using the SotM 2020 Wiki for the organization of such sessions so that everybody is able to jump in without any formal barrier.

Of course the Code of Conduct of SotM also applies to the self-organized sessions.

You can find more information on how to prepare and submit a self organized session for SotM 2020 here.
Volunteers
We are looking for volunteers to help in the following roles during SotM 2020:
Infodesk – To help answer questions on the SotM Telegram group, SotM Twitter and the IRC Channel.
Session Host – To announce the speakers before the talks and lead the Questions & Answers sessions after the talks.
Technical Assistant – To help the speaker and the session host with the video conference equipment.
Broadcasting – To do the streaming during the conference.
You can read more about these roles and add your name here if interested: https://wiki.openstreetmap.org/wiki/State_of_the_Map_2020/volunteers
Conference swag
This year everything is slightly different – including swag. Feel free to help yourself with the designs for t-shirts and stickers and don't hesitate to share with us photos of your printed swags 🙂

The State of the Map Working Group
Do you want to translate this and other blogposts in another language..? Please send an email to communication@osmfoundation.org with subject: Helping with translations in [language]
The State of the Map conference is the annual, international conference of OpenStreetMap, organised by the OpenStreetMap Foundation. The OpenStreetMap Foundation is a not-for-profit organisation, formed in the UK to support the OpenStreetMap Project. It is dedicated to encouraging the growth, development and distribution of free geospatial data for anyone to use and share. The OpenStreetMap Foundation owns and maintains the infrastructure of the OpenStreetMap project and you can support it by becoming a member. The State of the Map Organising Committee is one of our volunteer Working Groups.

OpenStreetMap was founded in 2004 and is a international project to create a free map of the world. To do so, we, thousands of volunteers, collect data about roads, railways, rivers, forests, buildings and a lot more worldwide. Our map data can be downloaded for free by everyone and used for any purpose – including commercial usage. It is possible to produce your own maps which highlight certain features, to calculate routes etc. OpenStreetMap is increasingly used when one needs maps which can be very quickly, or easily, updated.