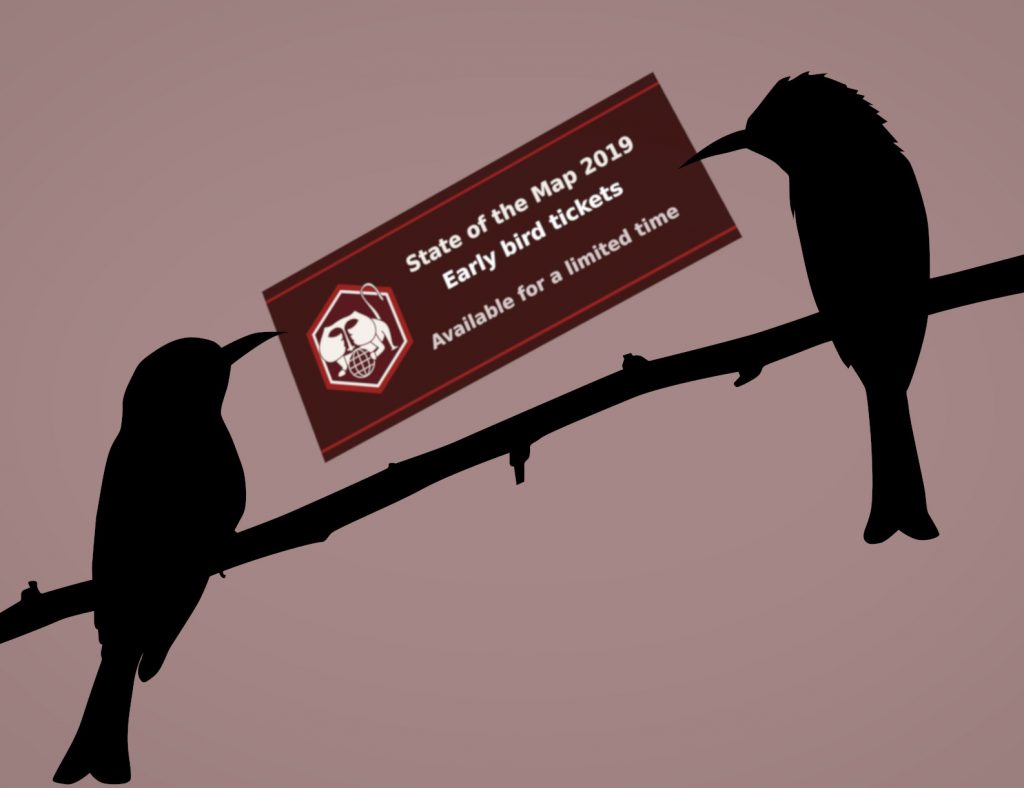 Tickets are now on sale for the State of the Map conference 2019 in Heidelberg, Germany. The conference runs from the 21st-23rd September. As always, if you are eager to start, we offer an Early Bird discount, but hurry, as these special prices are only available for a limited time.
We have had a large number of talks submitted to both the regular and academic tracks, so this year promises to have some really interesting topics. Come and be a part of what should be the biggest SotM to date!
Early bird ticket prices
There are many different tickets on offer, so make sure you select the correct one when ordering.

Regular – €180 (early bird)
Regular tickets for €180 are available for individuals.
Community – €75 (early bird)
If you are a member of the volunteer OSM community, you can get your SotM ticket for a special discounted price of €75.
Supporter – €700 (early bird)
For those businesses who want to help support the SotM but cannot sponsor, we offer the supporter ticket costing €700.
Included in your ticket
entrance for one person to the social dinner and
use of local public transport in Heidelberg (VRN), so you don't have to worry about paying for public transport each time you use it.
Additional offers
Alongside the regular tickets, we have some extras to offer.

Additional persons to social dinner – €50 per person
If you are bringing more people with you to Heidelberg who are not attending the conference, you can still buy extra tickets for the social dinner. Each one is €50.

Heidelberg Altstadt guided tour – €15
Heidelberg has a very historic city center, and we are pleased to offer a guided tour which will take place in the afternoon of 20th September, costs €15 per person and will last approximately 3 hours.

We will be happy to see you in Heidelberg.
SotM Organising Committee

Sign up for event updates and follow us @sotm!

Do you want to translate this and other blogposts in your language..? Please send an email to communication@osmfoundation.org with subject: Helping with translations in [your language]
The State of the Map conference is the annual, international conference of OpenStreetMap, organised by the OpenStreetMap Foundation. The OpenStreetMap Foundation is a not-for-profit organisation, formed in the UK to support the OpenStreetMap Project. It is dedicated to encouraging the growth, development and distribution of free geospatial data for anyone to use and share. The OpenStreetMap Foundation owns and maintains the infrastructure of the OpenStreetMap project. The State of the Map Organising Committee is one of our volunteer Working Groups.
What is OpenStreetMap
OpenStreetMap was founded in 2004 and is a international project to create a free map of the world. To do so, we, thousands of volunteers, collect data about roads, railways, rivers, forests, buildings and a lot more worldwide. Our map data can be downloaded for free by everyone and used for any purpose – including commercial usage. It is possible to produce your own maps which highlight certain features, to calculate routes etc. OpenStreetMap is increasingly used when one needs maps which can be very quickly, or easily, updated.