By: Local Chapters & Communities Working Group (LCCWG)
The Local Chapters & Communities Working Group (LCCWG) tries to organize a yearly in-person and a yearly virtual Local Chapters Congress. For obvious reasons, events in 2020 and 2021 could only happen virtually. But in 2022 we managed to do both! This post covers about both the virtual and IRL (in real life) congresses.
State of the Map Florence – Community Meet IRL!
On August 19, at the State of the Map in Florence, Italy, the LCCWG hosted an in-person (woo hoo!) mini-Congress. If you missed it, here are some of the ideas that arose from a fruitful and fun discussion. We hope you will consider joining the next session in late 2023!
We started the session by dividing up into continents – and every continent was represented! It turned out many people from the same regions didn't know one another.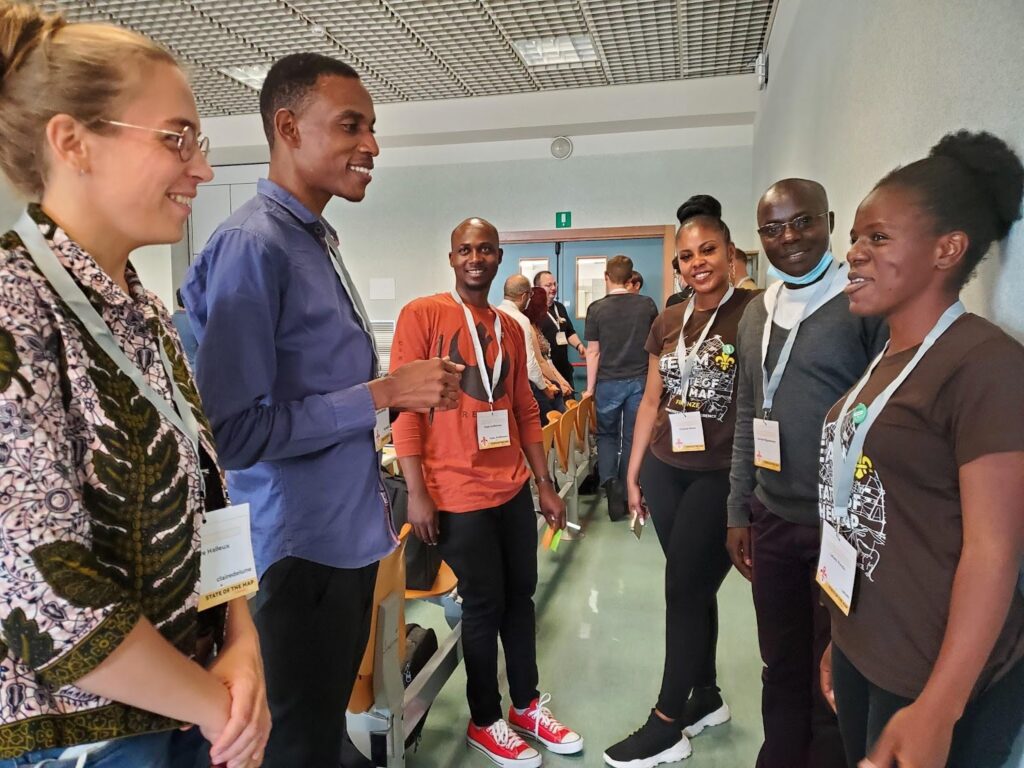 Next we heard Allan Mustard, Tobias Knerr and Jean-Marc Liotier talk about the role of chapters from the OpenStreetMap Foundation perspective.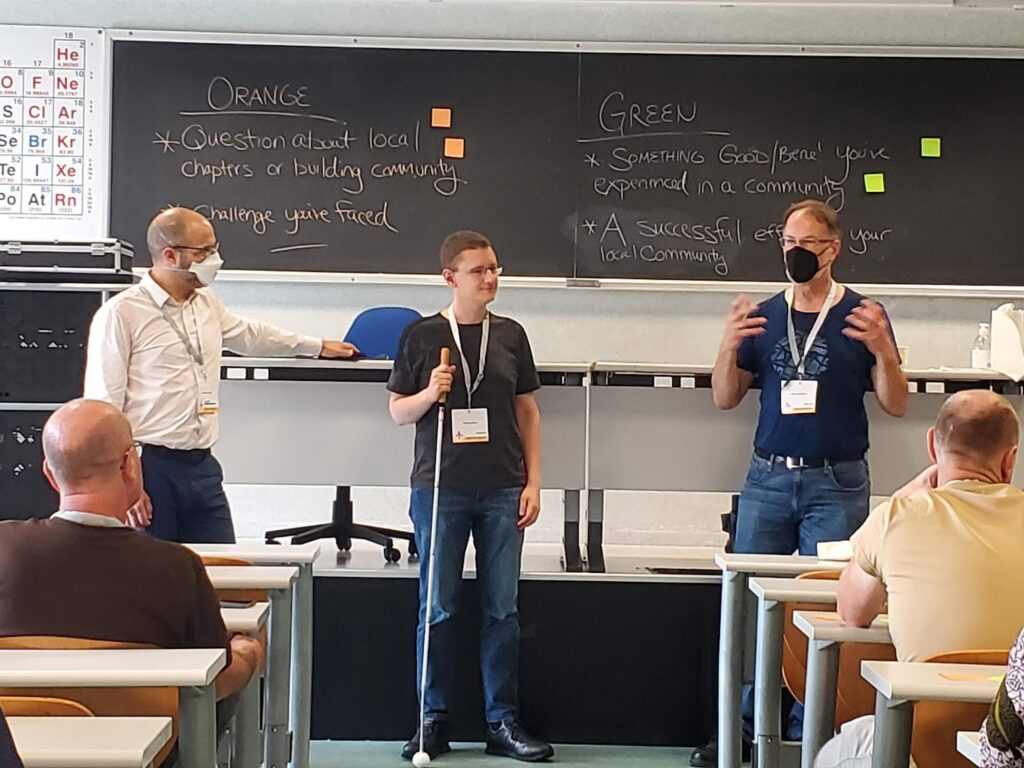 Next we passed out two colors of sticky notes and asked participants to share things that have worked in their communities or challenges they have faced. There were many great answers, and many common threads.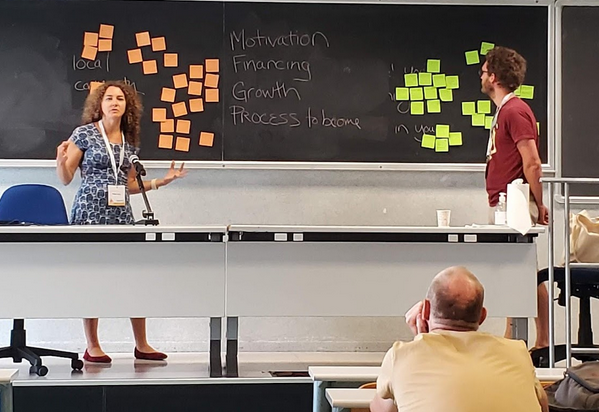 Where have you seen success gathering community?
In terms of having an organization, some groups found that having several dedicated chat rooms on specific topics helpful. Other groups found it simpler to move organizational stuff to open source software like Collabora, LibreOffice, LimeSurvey. Many folks had success linking with their local government and holding local events, like State of the Map. Other common threads were around community building and mapping projects. Community building around the world seems to have more success when the focus is on building relationships, working together with other communities and having regular informal meetings. All participants strive to keep their spaces open and welcoming.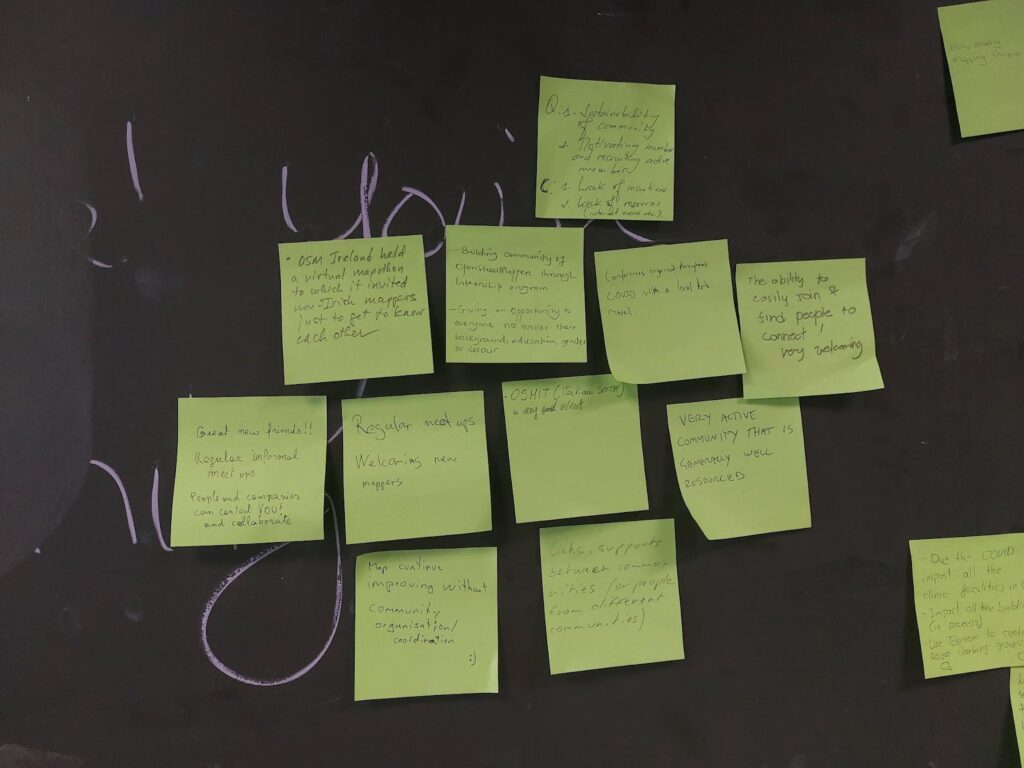 Often communities are contacted by local authorities who want to help keep OSM data up to date. This can lead to partnerships for mapping projects, such as mapping health infrastructure for covid, mapping buildings and addresses, following up on Notes and just new mappers heading out to contribute on their own.
What's Difficult About Organizing Community?
On the other sticky note, folks shared things that were more difficult. A general theme seemed to be growing pains – how do you get started? Once you have a little group, how do you formalize? When you become a Local Chapter, how do you find new goals for the community to work towards? In some regions, getting volunteer work at all is difficult. In others, it's mostly about keeping people on board for longer.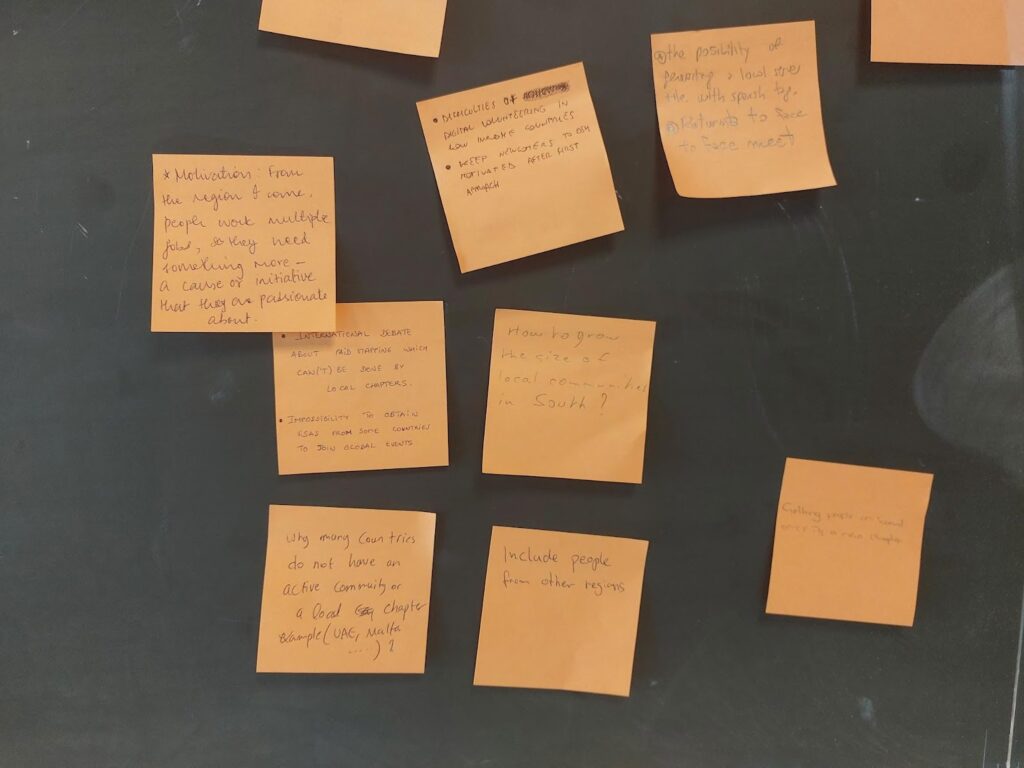 Another common difficulty was the institutional and financial challenges associated with having a local group. How do you finance your organization? How do you handle commercial activities? In our session there were discussions about the limits to paid mapping by local chapters, the growing pains moving from an informal to a formal group, the procedure to become a Local Chapter and when requests from outsiders or handling management as a volunteer can be too time consuming.
Other challenges included how to decide between open channels Vs closed channels (where many folks tend to be already, like WhatsApp), having too many different channels, getting visas to attend global events, engaging volunteers in low income countries, and reconvening in-person after COVID.
When it comes to mapping – often that's the least of a Chapter's worries! Though in some countries, incentives for volunteers and lack of resources like decent internet connections are a barrier. Another challenge can be to get people facing the same direction to achieve common mapping goals, or to decide on which mapping tools to use. And there's more and more quality open data that allows you to improve OpenStreetMap – but it is so much work to put it to use.
Local Chapters Congress – Community Meets Online
On November 12, 2022 the global OSM community gathered for the 3rd annual virtual Local Chapters and Communities Congress 2022. Leaders and members of various OSM communities, whether they are officially recognized Local Chapters of the OSM Foundation or just a regular user group of OSM mappers, came together to share stories and learn from each other.
There were lightning talks, presentations by LCCWG members and lots of great discussions. OSM Italia presented a fun video about the SotM in Florence. Adrés Gómez talked about how the Colombia community is successfully dealing with huge amounts of Notes – and how the project is expanding to other countries. Janet Chapman talked about Crowd2Map Tanzania. Then we heard about the new Discourse forum that lives at community.openstreetmap.org. To close off, we heard from a bunch of communities from around the globe.
You can check out the full agenda on the wiki and watch presentations from the day on this youtube playlist.
---
The OpenStreetMap Foundation is a not-for-profit organisation, formed to support the OpenStreetMap Project. It is dedicated to encouraging the growth, development and distribution of free geospatial data for anyone to use and share. The OpenStreetMap Foundation owns and maintains the infrastructure of the OpenStreetMap project, is financially supported by membership fees and donations, and organises the annual, international State of the Map conference. Our volunteer Working Groups and small core staff work to support the OpenStreetMap project. Join the OpenStreetMap Foundation for just £15 a year or for free if you are an active OpenStreetMap contributor.