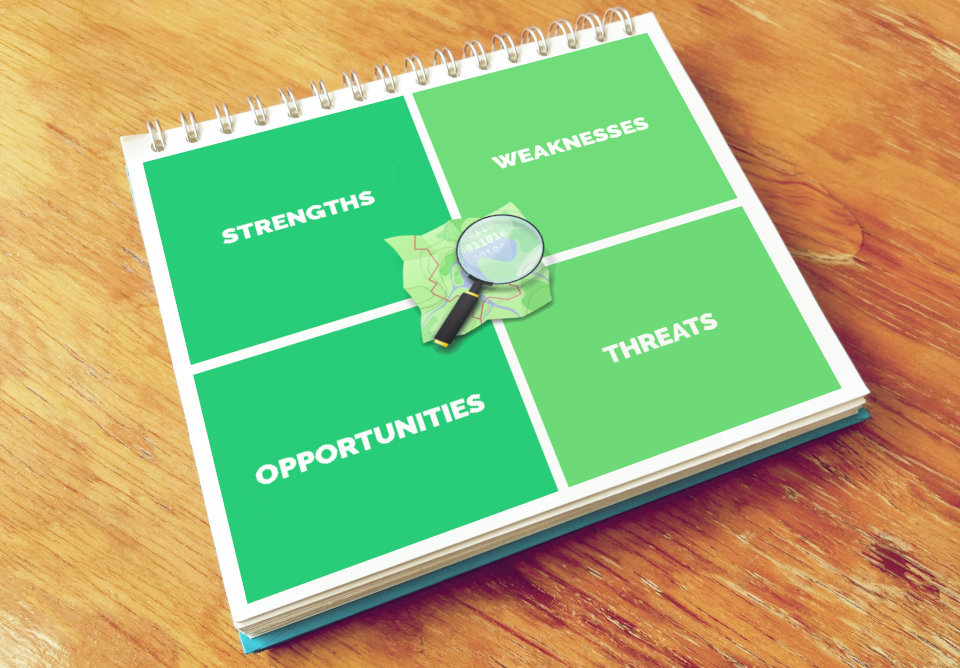 Allan Mustard, the new OSMF board chairperson, is asking the OSM community members to share their perspectives on OSM's Strengths, Weaknesses and Opportunities and Threats (SWOT) that OSM faces. Strengths and Weaknesses refer to internal facets of OSM over which we, the community, have control. Opportunities and Threats are external influences with which we may and in some cases must deal.
Please share your thoughts on this page:
https://wiki.openstreetmap.org/wiki/OSM_SWOT
(you need an OSM wiki account – register here)
Allan writes:
"One usual practice in SWOT analysis is "brainstorming". There are two rules of brainstorming. First, no idea is bad. All ideas are good and may be added to the list. We are in that phase, so no matter how crazy or unusual your idea may be, if you believe it is a genuine SWOT, put it down. We will sort out the good from the less good later. Second, no ad hominem (i.e., personal) attacks. If somebody puts something on this page that you don't like, express your opinion politely later on."
You are welcome to also translate the initial page in other languages and add them to the OSM wiki. If you don't know how, please send us an email to communication@osmfoundation.org
Reference materials about this type of analysis are on the wiki page.
Discussion about the analysis can take place at the OSM wiki and the OSM diaries.
Thanks for participating 🙂

OSM Communication Working Group
Do you want to translate this and other blogposts in your language..? Please send us an email to communication@osmfoundation.org with subject: Helping with translations in [your language]
The OpenStreetMap Foundation is a not-for-profit organisation, formed in the UK to support the OpenStreetMap Project. It is dedicated to encouraging the growth, development and distribution of free geospatial data for anyone to use and share. The OpenStreetMap Foundation owns and maintains the infrastructure of the OpenStreetMap project, is financially supported by membership fees and donations, and organises the annual, international State of the Map conference. It has no full-time employees and it is supporting the OpenStreetMap project through the work of our volunteer Working Groups. Please consider becoming a member of the OSM Foundation.

OpenStreetMap was founded in 2004 and is a international project to create a free map of the world. To do so, we, thousands of volunteers, collect data about roads, railways, rivers, forests, buildings and a lot more worldwide. Our map data can be downloaded for free by everyone and used for any purpose – including commercial usage. It is possible to produce your own maps which highlight certain features, to calculate routes etc. OpenStreetMap is increasingly used when one needs maps which can be very quickly, or easily, updated.