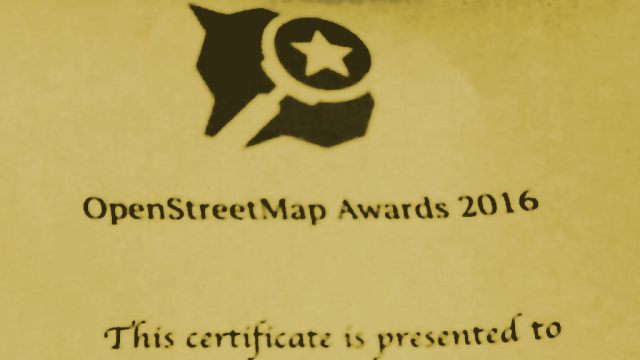 The community voting for the OpenStreetMap Awards 2017 is open! During the call for nominees you submitted more than a hundred of them. Then a number of active community members have prepared a shorter list. Now it is again your turn: choose who gets an award at the ceremony at the State of the Map in Japan.
This time you would need to consider 45 nominees in 9 categories. That is a tiny fraction of active community members who did good in the past year, but still a lot to choose from. To make your task simpler, we have made a couple of changes.
You don't have to select only one nominee for a category: that was a hard choice last year, and most of the time you'd wish you had more votes. Now you have! Choose as many as you like, even all of them. This process is called Approval Voting: studies show it is much fairer that the regular one-vote voting, and much easier to understand than STV. The winner is still determined by the number of votes.
And do use the fact that you can change or add to your votes at any time until the voting ends (that would be on 16th of August). We will cover all nominees in this blog, so you could make an informed choice. Starting right now, with the two technical categories. Nominees are listed in a random order.
Core Systems Award
For outstanding contributions to any of the core tools, systems, processes or resources. Not limited to systems under OSMF control. The Rails port, mapnik, and any other tool that mappers use on a daily basis, knowingly or not, are eligible.
Innovation Award
For the best new service or approach. New tools for contributing data, image recognition, trace or OSM data analysis, new mapping approach or new perspective on old tools.
Now that you know what these ten nominees did, head to the OSM Awards website and click on these you think should get an award for their work. We'll return next week to look at writing and mapping categories.
Photo of the certificate © Blog Conhecer OpenStreetMap