OpenStreetMap has been breaking records in May – the record for the most daily mappers, the most newly registered mappers in a day, and the most newly active mappers have been broken numerous times.
On May 12, a new record for daily mappers was set with 6,999, and then two days later, the record was beaten again with 7,209 mappers. There have also been records set for newly registered mappers, with 6,259 on May 14 as well as newly active mappers, 1,019 on the same day. You can see more trends from the OSM Stats site: http://osmstats.neis-one.org/?item=members
We were wondering if any of these numbers might be due to unusual activity of (e.g.) mappers who were normally mostly mapping during weekends and due to Covid-19 lockdown they now map during the week or due to increased organised editing in particular countries. For this reason, we contacted Pascal Neis and asked him whether he could provide some insight. Pascal was helpful, quickly researched the matter and provided his insights below (thanks!).

According to Pascal, the mentioned week in May had a high activity of members contributing in Peru, Botswana, Central African Republic and other countries. In particular, there was a high amount of newly registered members who started contributing to the Cusco region in Peru. It is also noticeable that the new mappers contributed mostly on weekdays.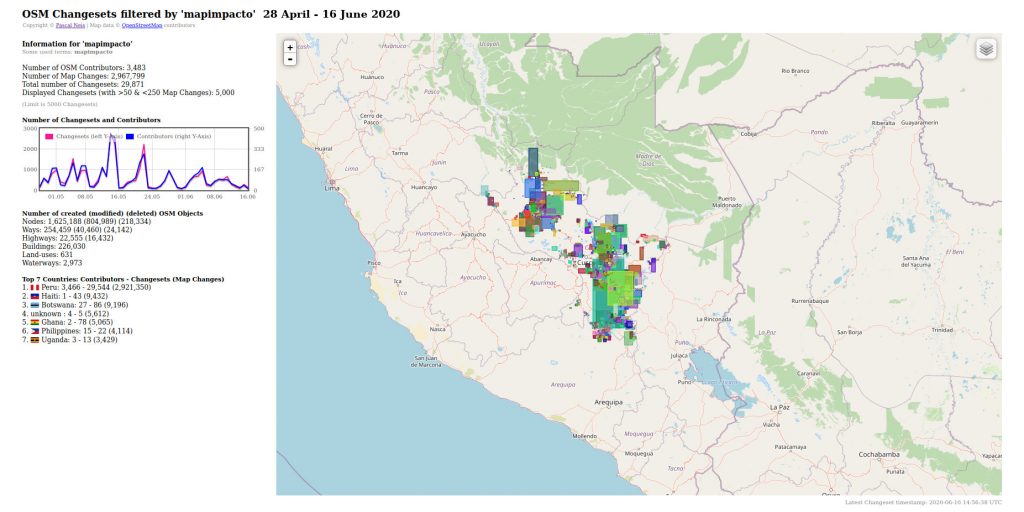 Pascal also took a close look at relevant hashtags and found some useful information: In Peru (not all, but) a significant amount of contributors utilized the #mapimpacto hashtag. Global Active Learning (GAL) School Peru, which received a 2020 HOT microgrant, co-ordinated HOT tasks there. In Botswana several mappers used the #COVBots hashtag. Besides this, we found that in India there was an effort by Educate Girls.

Going back to the newly registered accounts, this growth has been happening for some time — OSM has been growing for years, with about 1.5 million total contributors and more than 6.5 million registered users as of May 30. You can see detailed stats over time here.

It's great to see new mappers joining our community. If you haven't mapped in a while, why not take a look at your neighborhood, somewhere you're familiar with, or somewhere new. You can see some options and learn more at https://wiki.openstreetmap.org. Also have a look at our good practice guide. And if you want to learn more about mapping with OpenStreetMap as an organization, check out the Welcome Mat at https://welcome.openstreetmap.org and remember to add any organised activities on the OSM wiki, according to the OSM organised editing guidelines.

Happy mapping!

Andrew and other CWG members, with input from Pascal Neis

Do you want to translate this and other blogposts in another language..? Please send an email to communication@osmfoundation.org with subject: Helping with translations in [language]
The OpenStreetMap Foundation is a not-for-profit organisation, formed to support the OpenStreetMap Project. It is dedicated to encouraging the growth, development and distribution of free geospatial data for anyone to use and share. The OpenStreetMap Foundation owns and maintains the infrastructure of the OpenStreetMap project, is financially supported by membership fees and donations, and organises the annual, international State of the Map conference. It has no full-time employees and it is supporting the OpenStreetMap project through the work of our volunteer Working Groups. Please consider becoming a member of the Foundation.
OpenStreetMap was founded in 2004 and is a international project to create a free map of the world. To do so, we, thousands of volunteers, collect data about roads, railways, rivers, forests, buildings and a lot more worldwide. Our map data can be downloaded for free by everyone and used for any purpose – including commercial usage. It is possible to produce your own maps which highlight certain features, to calculate routes etc. OpenStreetMap is increasingly used when one needs maps which can be very quickly, or easily, updated.