State of the Map 2016 is on. We have fixed a location. Here come the facts.
The conference will be held on September 23 – 25, 2016 in the heart of Europe, Brussels, at Vrije Universiteit Brussel (VUB ‐ Pleinlaan 2, 1050 Elsene, Brussels). The Vrije Universiteit Brussel is the offshoot of the French-speaking Université Libre de Bruxelles (ULB), founded in 1834 by a Brussels lawyer with Flemish origins, Pierre-Théodore Verhaegen. He wanted to establish a university independent from state and church and where academic freedom would reign.
Following years of tradition we held a logo competition for SotM 2016. We were delighted by the response and eventually settled on the eye-catching design below. Thanks to Veronica Semeco, who designed the winning logo, and Tatiana van Campenhout, who prepared the logo and website for launch.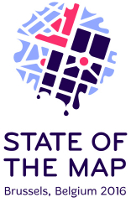 State of the Map provides a fantastic opportunity to meet the diverse OpenStreetMap community and to celebrate your achievements and look forward into the future. As an organising team we are delighted to be able to bring data contributors, data users and software developers together again and we look forward to meeting you all in Brussels.
The SotM 2016 website has launched. There you will find more information about registration, call for proposals, the programme, social events and accommodations soon. Please also take the time to sign up to our email newsletter or follow us on twitter.