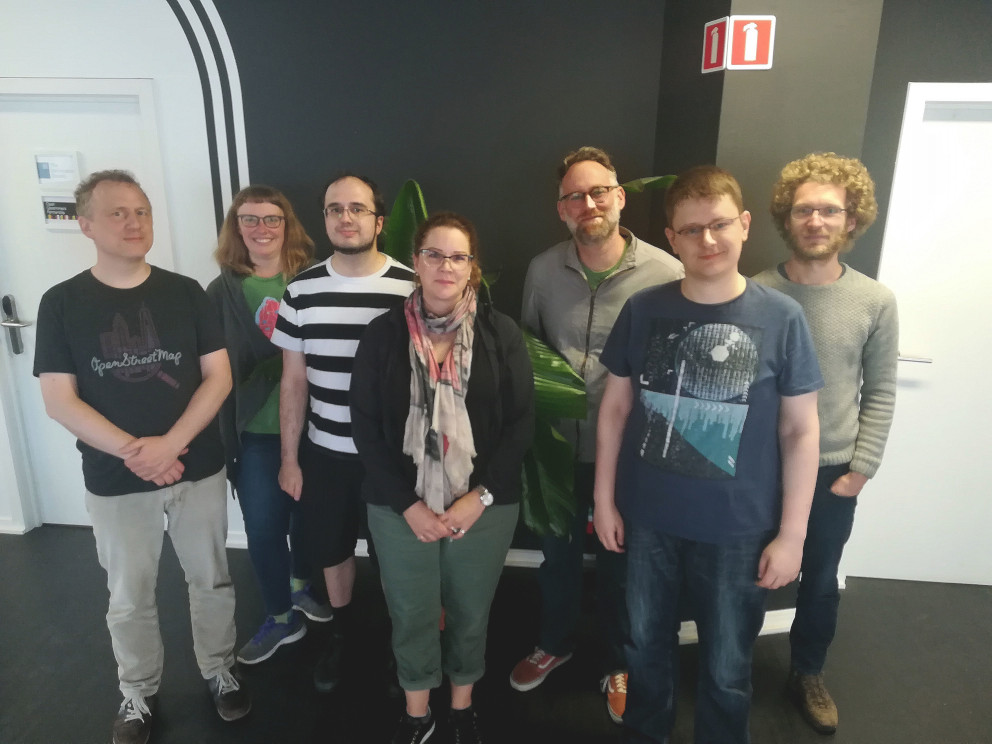 The OpenStreetMap Foundation Board is a special thing. Elected by the Foundation members, we come from very different backgrounds and parts of the world. Several of us had never met in person before. Most of our communication is asynchronous. We have only a single one hour phone meeting every month, usually in public. Now imagine this group of people trying to tackle complicated problems together.
Thus the tradition to have a yearly face to face meeting. Though the meeting was later than we hoped, the timing turned out right. We had already tackled some of the biggest issues that needed attention, and were finally in a good place to look at the bigger picture.
The face to face meeting means more time to work together than over the rest of the year combined. To make things even more productive, we had professional assistance from Allen Gunn, Aspiration. This helped greatly to make sure it wasn't just the most outspoken who talked, that the important stuff got some attention, and that we didn't get into each others' hair. Too much at least. Just kidding: put people who believe in OpenStreetMap together in one room, and it turns out we can have a productive conversation without much issue.
On to actual business
So what did we talk about? (apart from that it's hard to leave baby goats behind, that you need to be a vegetarian to drive a Land Rover, and sacrilegious stuff like that BrewDog has the best beer in Belgium).
If we learned one thing from the last election season, it's that it wouldn't be technically illegal and not hard at all for a "bad actor" to game the election. We spent several hours analyzing what we could do to mitigate such risks. And then a few more to identify the solutions we can actually implement before the next election.
Working on things like this, we have noticed that our working relationship with the various Working Groups is not without its issues. We took a long hard look in the mirror and came up with a list of questions we would like to ask the Working Groups, to better understand how we can do better as a board. We'll be sharing what we worked on with Working Groups soon. The results of that will be a starting point to see where we can help Working Groups to succeed in their goals.
We started off from our own priorities, but on the second day we took the recent survey into account. We got 161 full responses. There were some requests we could not handle, such as smashing the capitalist world system. But even the answers that are not really in Board scope were very informative and sometimes even came as a surprise.
There were many requests to deal with tags, editor presets, improvements to the website and core technology. On the top of the list were two threats: a hostile takeover scenario, and our own divisions as a community (community health). Having these items outlined by that community did help us to see that it's not just peculiar board members who care about this, but something that really lives in the community. We want to get deeper insights into these issues and plan to do more detailed surveys in the future. We'll be sharing more details on the survey and surveying in general soon.
Any other business
The meeting is a good time to revive some important but "dormant" issues. We've made good progress on Board term limits and Microgrants. But we also know that efficiency gains are not enough: we need more help to realise our goals. Since we're all very happy with Dorothea's work for us, we are planning to extend her hours. We will always be a volunteer organisation, and we are looking at ways to make sure that she does as little as possible that could have been done by a volunteer.
Personal lessons learned
While it is a costly affair, having a full board meeting for two-and-a-half days seems definitely good value for money. Especially for me, as a new member it feels like things have finally started. If we have a more international club in the future, it will be even more useful to bridge the cultural, gender, and power gaps.
Personally, I would like to see the face to face happen sooner after the election. There is an advantage to having been on the board for a couple of months already: it gives you a better of idea of what is realistic. While I was a bit frustrated with the relatively limited amount of stuff that made it to the action item list, it would still already be a huge success if we can get most of that list done.
Joost Schouppe

The OpenStreetMap Foundation is a not-for-profit organisation, formed in the UK to support the OpenStreetMap Project. It is dedicated to encouraging the growth, development and distribution of free geospatial data for anyone to use and share. The OpenStreetMap Foundation owns and maintains the infrastructure of the OpenStreetMap project, is financially supported by membership fees and donations, and organises the annual, international State of the Map conference. The OpenStreetMap Foundation has no full-time employees and it is supporting the OpenStreetMap project through the work of our volunteer Working Groups. Please consider becoming a member and read about our fee-waiver program.