DINACon digital sustainability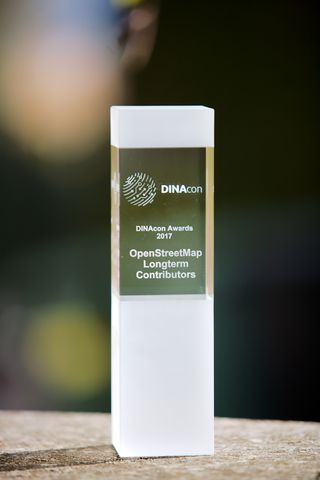 The OpenStreetMap community recently received an award at the DINACon conference on digital sustainability.
OpenStreetMap is showing itself to be sustainable in various ways. Our database is available to download in its entirety, which helps to ensure the hard work of our contributors will always live on regardless, but our core servers keep humming thanks to many generous donations to OSMF over the years, as well as funding from our corporate membership programme. Most important of all, our community continues to thrive, attracting new members, while retaining wonderfully dedicated long-term contributors (to whom this award was dedicated). Thank you to everyone who helps make OpenStreetMap sustainable.
Thanks also to Simon Poole, Stefan Keller, and Michael Spreng who accepted the award, as well as running an OpenStreetMap session at this conference.
While we're on the topic of awards…
OpenStreetMap Awards 2017
During our own conference, the international State Of the Map, in Japan back in August, we held the OpenStreetMap Awards ceremony. If you missed it, these are the results:
The OSM awards website has a list of all nominees, and details of why they were nominated (also on this blog). Well worth a read. It's a catalogue of spectacular individual contributions made to OpenStreetMap throughout the 2016/2017, and all of these nominees deserve our congratulations.