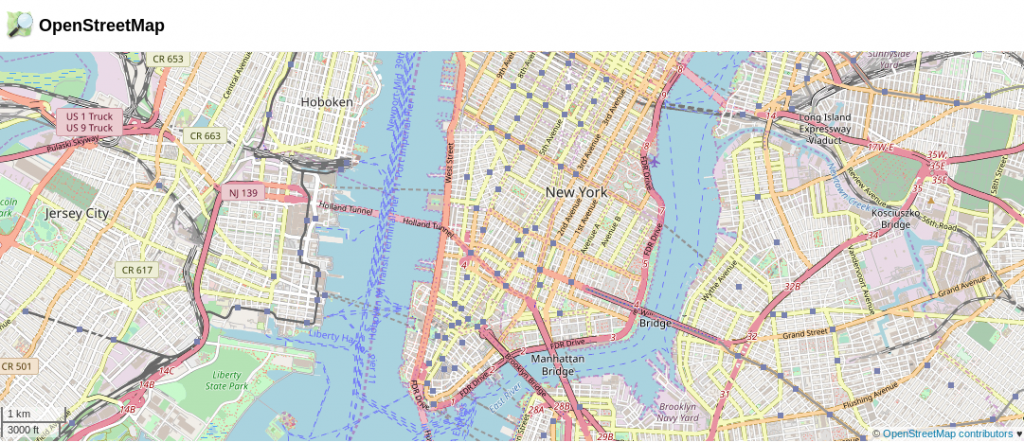 Earlier today news surfaced of various online maps displaying an anti-semitic term instead of the label "New York". Unfortunately we have to confirm that this data originated with our editable map project. This vandalism was detected and fixed within 2 hours, and the vandal was blocked from contributing further to OpenStreetMap.
On behalf of our organisation and community, OpenStreetMap condemns this kind of antisemitic hate speech without hesitation. We are disappointed that our project, which is devoted to sharing knowledge, was turned into a vehicle for the expression of ignorance, and hate. How did it happen?
Part of the "Open" of OpenStreetMap, is being openly editable. It is a wiki-style, crowd sourced, collaboration in which users all around the world can contribute and make edits. As with wikis, like Wikipedia, all changes are published immediately, and we put tools into the hands of our community to monitor each other's changes and revert vandalism. This "soft security" approach may sound surprising, but over the years we've found, as something of a triumph of human nature, that the vast majority of editors want to come together to help build something great, and these massively outnumber the few bad apples. OpenStreetMap is a not-for-profit good cause, and the map data is "owned by" the community. On the whole people tend to have respect for that.
In fact this vandalism happened a month ago, but delayed processing of data updates by some companies downstream, in this case Mapbox, which presents our maps to thousands of apps and websites –means that this vandalism was seen quite widely today. Mapbox has posted their response to the incident here. There is on-going work within the OpenStreetMap community to develop better quality assurance tools, to detect and deal with this sort of issue faster. Mapbox has been spearheading these initiatives both in terms of developing vandalism detection software, and committing staff toward the efforts of monitoring and reverting bad edits. Unfortunately human error in their processing pipeline led to this incident in OSM-based maps that Mapbox provides to companies like Snapchat.
If you see vandalism on our map, you can help. Read more about vandalism here. We will continue to work with our community and data consumers to make our map even stronger.