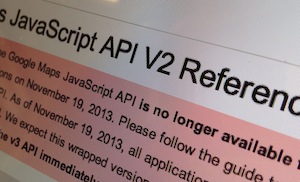 Have you received an e-mail like this?
"We cannot guarantee that your maps will continue to function. We highly recommend that you migrate to Google Maps v3 before November 19."
Yes, Google Maps are shutting down their old JavaScript Map API (v2). They recommend that you spend a lot of time rewriting your code to switch to the newer v3 API.
But why not spend that time switching to something better?
OpenStreetMap is the map made by experts – the locals who know their area intimately. It has footpaths and bike paths, alleyways and waterways, green spaces and public places, along with the roads and railways you expect. It's updated every minute of every day, not just next time Google sends out a StreetView car. No wonder big names like Foursquare, Github and Mapquest have already made the switch to OSM.
Switching from Google Maps to OpenStreetMap is easier than you think. If you've struggled with the old Google Maps APIs, you'll find our equivalent, Leaflet, a breath of fresh air. Its smooth presentation will give a real lift to your site's appearance, and on mobile it's as fluid as a native app.
And if you want to go further, OpenStreetMap lets you build your own, beautiful custom maps from our data. You're not limited to the same Google styling that everyone else uses. Because it's all open source, you don't even have to pay us anything for 'premium' services.
So how do you do it? The OpenStreetMap community runs the switch2osm.org website which offers several recommendations for switching to using OpenStreetMap. Check out the 'Basics' and 'Using Tiles' sections to find how to switch your JavaScript to OSM. If you want to build your own custom maps, you'll find full details there too.
Because ultimately, OpenStreetMap is much more than a Google Maps API replacement. We offer something rather different: free and open access to raw map data. This empowers developers to unleash a wave of innovation and creativity which goes beyond embedding maps on a website. Best of all, when people use OpenStreetMap on their websites, more people see the map; more people join in with mapping efforts; and the community-created map gets even more detailed. By using OpenStreetMap you are supporting it, and helping us with our not-for-profit mission to create the best free and open map of the world.