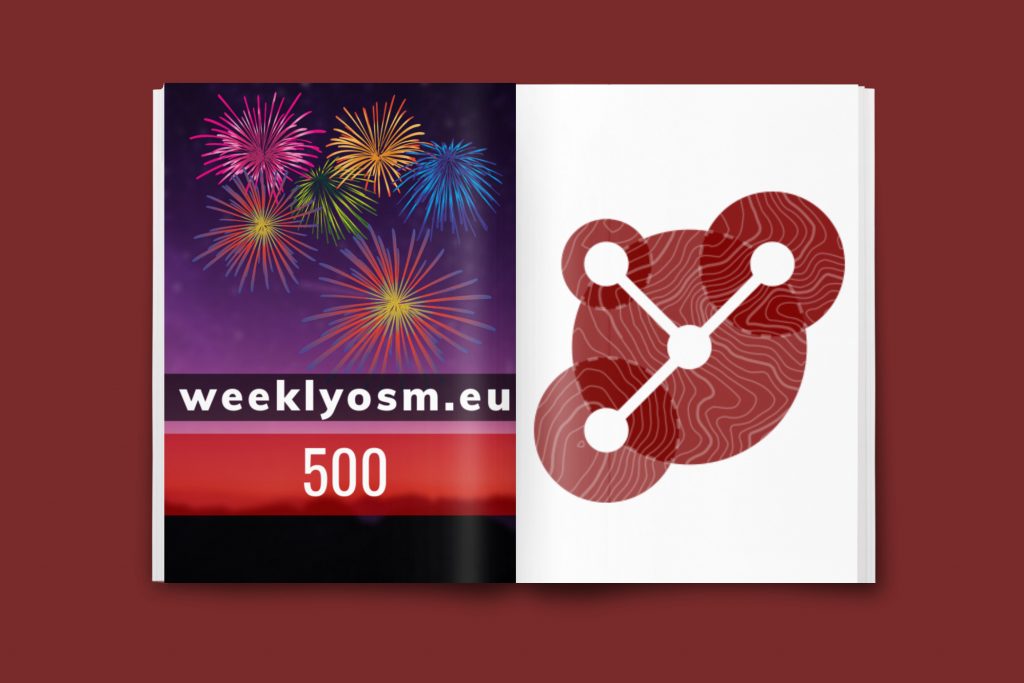 Congratulations to weeklyOSM for publishing its 500th online newsletter! WeeklyOSM is a community project which publishes news from the OpenStreetMap world every week. It is independent from the OpenStreetMap Foundation [1]. With the help of awesome volunteers across the globe, it is on its tenth year and is available in multiple languages, including:
You can subscribe to weeklyOSM's newsletter via email or via language-specific RSS/Atom feeds (CZ, DE, EN, ES, FR, JA, TR). You can also follow them on Mastodon/Fediverse at @weeklyosm@en.osm.town or on Twitter @weeklyosm.

The content is released under the liberal Creative Commons licence CC-BY-SA 3.0.

You can be part of the weeklyOSM project as well!

Minimal time required
Propose interesting news to be featured in the next newsletter. Find out how: https://weeklyosm.eu/this-news-should-be-in-weeklyosm

Medium time commitment
Help in translations of one of the already featured languages. Or help by proofreading articles and read the news before anyone else does 😉 Contact weeklyOSM.

Regular time commitment
Are you and your friends interested in translating each weekly newsletter in your own language? Contact weeklyOSM. Translating is of course a big part, but proofreading is also very important. Please note that each language team is free to add their language specific news as well.

Congratulations and many thanks to the weeklyOSM contributors. 🙂

OSM Communication Working Group

Do you want to translate this and other blogposts in your language..? Please send us an email to communication@osmfoundation.org with subject: Helping with translations in [your language]

[1] The OpenStreetMap Foundation is a not-for-profit organisation, formed to support the OpenStreetMap Project. It is dedicated to encouraging the growth, development and distribution of free geospatial data for anyone to use and share. The OpenStreetMap Foundation owns and maintains the infrastructure of the OpenStreetMap project, is financially supported by membership fees and donations, and organises the annual, international State of the Map conference. It has no full-time employees and it is supporting the OpenStreetMap project through the work of our volunteer Working Groups. Please consider becoming a member of the Foundation.

OpenStreetMap was founded in 2004 and is a international project to create a free map of the world. To do so, we, thousands of volunteers, collect data about roads, railways, rivers, forests, buildings and a lot more worldwide. Our map data can be downloaded for free by everyone and used for any purpose – including commercial usage. It is possible to produce your own maps which highlight certain features, to calculate routes etc. OpenStreetMap is increasingly used when one needs maps which can be very quickly, or easily, updated.