The OpenStreetMap community has a wide array of different local groups forming in different corners of the globe. It's time to formalise the idea of "local chapters". We now have a definition and a process, and we have our first official OpenStreetMap Foundation Local Chapter!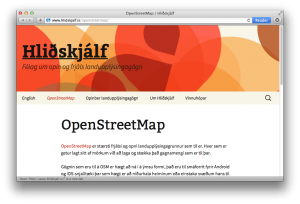 "OpenStreetMap á Íslandi" is a subgroup of Hliðskjálf, an Icelandic society for open and free geographic information data. Well done to Jóhannes from Hliðskjálf who went through the process of getting this organisation set up as an OpenStreetMap Chapter.
Of course we have always had local OpenStreetMap groups forming all around the world, small groups of collaborating mappers, but also groups on a bigger country scale. These organisations help to present OpenStreetMap in a particular language, and engage a community with consideration for local culture and customs.
The idea of local chapters has long been discussed, as a name for these groups. We're borrowing this idea from the Wikimedia foundation. And now we are formally introducing local chapters as a way of establishing a relationship between regional OpenStreetMap organisations and the OpenStreetMap Foundation. This is a hugely important step in the development of the OSMF.
The actual definitions, requirements and processes have been laid out. Read these, and more information, on the Local Chapters page.
This post is also available in: Japanese