In January 2014, OpenStreetMap saw its 20 millionth edit.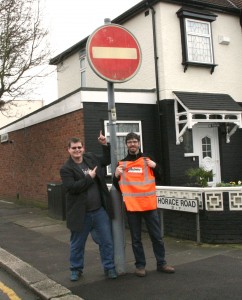 User:cosmicpop registered to edit OpenStreetMap just recently, and made a little fix to the map of his local neighbourhood. These things happen thousands of times every day, and with enough people mapping in their local area, we're building a free and open map of the world!
But this time was special. This was the 20 millionth edit saved to OpenStreetMap. To celebrate, we decided to get in touch, and present this contributor with a prize. Here is cosmicpop with his new OpenStreetMap hi-vis jacket!
"Wow, I'm not the superstitious type, but this is the first time I've ever edited on OpenStreetMap, while in my other browser tabs I was looking for a hi-vis jacket to wear while cycling which I have recently taken up. Maybe I should do the lottery this weekend." – Cosmicpop
Cosmicpop tells us he had been thinking about contributing to OpenStreetMap for a while now, and decided it was time to fix a one-way restriction which was missing from all maps. Friends visiting him were often surprised by the one-way not being marked on their satnavs. Well now it's correct on OpenStreetMap – a great local improvement by a new user for our 20 millionth "changeset"!
Changesets? Edits?
When you're editing OpenStreetMap you can add new map elements or modify existing ones. Your changes – be it one or a hundred – are sent to OpenStreetMap when you click "save". Simple!
When you do this, you write a little message describing your change, and this is recorded, together with your edits, as a "changeset". We just hit 20 million of these bundles of changes, some big, some small.
You can view your own changesets from your OpenStreetMap profile page, or view the latest changesets from all users. For a more spectacular global view of changesets as they happen, check out live OSM edits, and "show me the way".
More stats
Of course changesets are not the only stats we track. OpenStreetMap also has…
2.17+ billion Nodes in database
214+ million Ways in database
3.78+ billion GPS points in database
1.5+ million registered users
Check out the stats page for more.