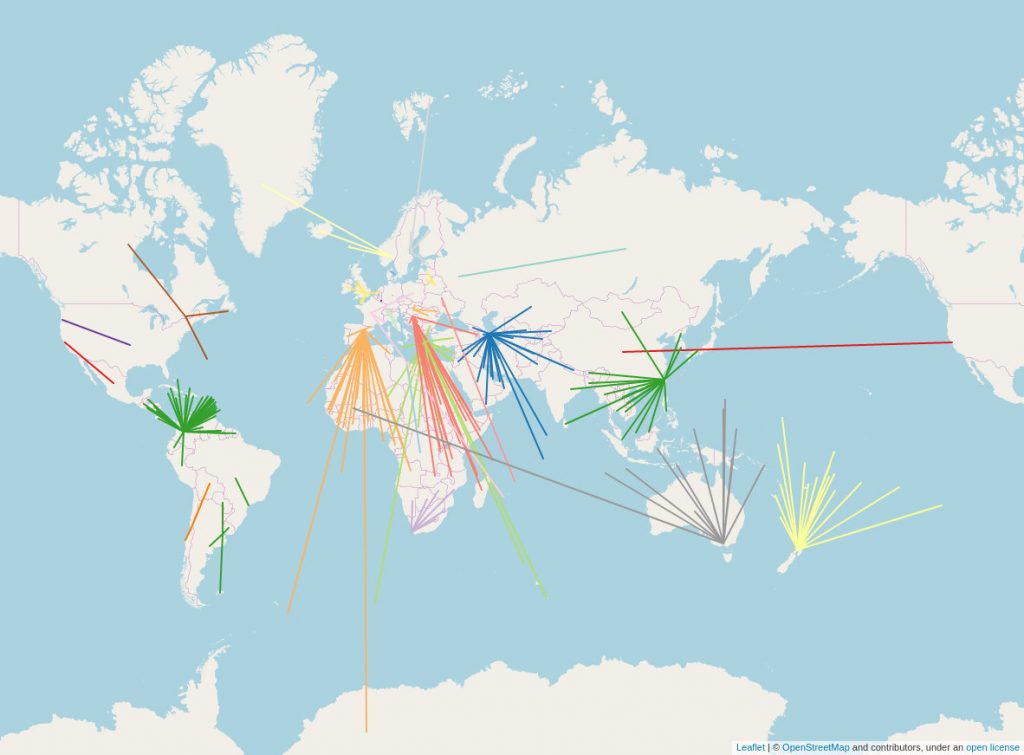 The OpenStreetMap Foundation Operations Working Group wants to thank all the recent donations of nodes for our tile cache CDN:
Tile cache nodes allow us to serve all users by answering map tile requests closer to the user, giving a faster response time, reducing rendering server load, and saving international bandwidth.
Caches added in 2019
In 2019, thanks to sponsors, caches have been hosted in the following countries:

Australia
Brazil
France
Germany
New Zealand
Sweden
Switzerland
Ukraine
United States

Chinese Dragon by Nyo, public domain
OpenStreetMap has an internal server naming theme based on fictional dragons, as in "here be dragons".
Full list of tile caches here and on a map.
Would you like to host a tile cache?
If you operate an internet exchange, host company, or otherwise have a site with good internet connectivity and high regional bandwidth, you can look at the tile CDN node requirements. We welcome hosting of tile caches elsewhere, and are particularly looking for tile caches in Africa and Asia. If you are interested, please contact us.
Domain name sponsoring by Gandi
Gandi, in addition to hosting the new tile cache server Gackelchen in Bissen, Luxembourg and supporting OpenStreetMap France (an OSM Foundation Local Chapter) are now very generously sponsoring many of our domain names. We would like to thank them for their support.
Do you want to translate this and other blogposts in your language..? Please send an email to communication@osmfoundation.org with subject: Helping with translations in [your language]
The OpenStreetMap Foundation is a not-for-profit organisation, formed to support the OpenStreetMap Project. It is dedicated to encouraging the growth, development and distribution of free geospatial data for anyone to use and share. The OpenStreetMap Foundation owns and maintains the infrastructure of the OpenStreetMap project, is financially supported by membership fees and donations, and organises the annual, international State of the Map conference. It has no full-time employees and it is supporting the OpenStreetMap project through the work of our volunteer Working Groups. Please consider becoming a member of the Foundation.
OpenStreetMap was founded in 2004 and is a international project to create a free map of the world. To do so, we, thousands of volunteers, collect data about roads, railways, rivers, forests, buildings and a lot more worldwide. Our map data can be downloaded for free by everyone and used for any purpose – including commercial usage. It is possible to produce your own maps which highlight certain features, to calculate routes etc. OpenStreetMap is increasingly used when one needs maps which can be very quickly, or easily, updated.