Yesterday Apple launched iPhoto, its photo management app, for the iPad and iPhone… and we're rather pleased to find they're the latest to switch to OpenStreetMap.
The desktop version of iPhoto, and indeed all of Apple's iOS apps until now, use Google Maps. The new iPhoto for iOS, however, uses Apple's own map tiles – made from OpenStreetMap data (outside the US).
If you don't have iPhoto, you can view the maps using this unofficial viewer  from Dair Grant or a transparent comparison from Iván Sánchez.
The OSM data that Apple is using is rather old (start of April 2010) so don't expect to see your latest and greatest updates on there. It's also missing the necessary credit to OpenStreetMap's contributors; we look forward to working with Apple to get that on there.
03 May 2012 Update: Apple appear to have added OpenStreetMap attribution in their iPhoto v 1.0.1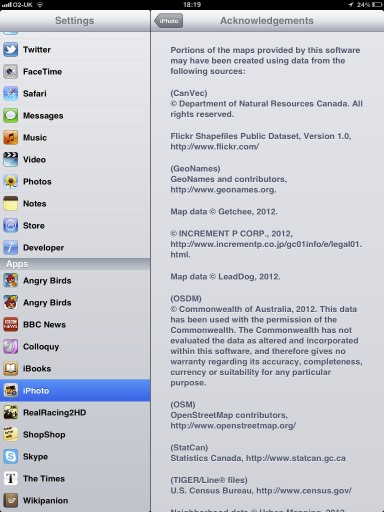 But we're delighted to see another prominent map user make the switch to OpenStreetMap, and look forward to many more.
This post is also available in: Dutch French Japanese Russian Spanish