Since completing the worldwide automated redaction process, we're seeing some great progress with remapping. Thanks to the efforts of the community we're recovering a useable map in areas where large gaps had appeared. There is some scope for basic aerial imagery tracing in these areas. To join in with these remote mapping efforts you might like to check out rebuild.poole.ch, a tool to coordinate these efforts. Further details and other remapping tools / links are provided on the 'Remapping' wiki page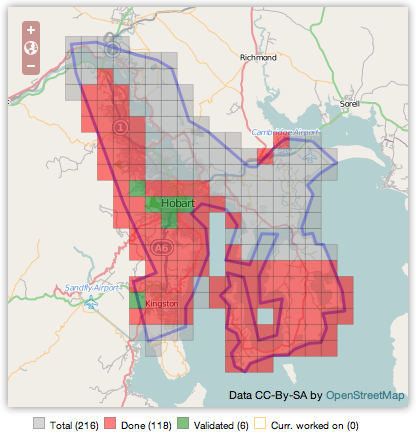 You are reminded that areas of data must not be copied from the pre-redaction CC-BY-SA licensed OpenStreetMap sources. Where users declined permission to carry their contributions forwards with the new license, we must respect these wishes. In cases where this has been ignored or remapping users have misunderstood, we must now resolve these issues. The Data Working Group and License Working Group are busy tackling this task at the moment. This has involved re-engineering some of the redaction code, and we are currently re-running some areas of data through a redaction process. Remapping work can be frustrating, but undoing remapping work is even more so, so please remember to treat pre-redaction data as a copyrighted source which cannot be input into OpenStreetMap.
Aside from this caution, it's mapping as usual! Join in with the remote mapping efforts, and also remember that it's as important as ever to welcome new members to our mapping community, to get more people all over the world mapping their own neighbourhoods. The license didn't change yet, but all the work on filling in these gaps will soon be ODbL licensed, putting us on a secure footing for the future.